Continuing our 15th anniversary celebrations – Celebrate a CBB Success Story!
End of Summer party at a spectacular 1965 midcentury home, owned by CBB members. For CBB members only, invitations were sent out by email to all paid members.
We always say – TELL A FRIEND….
When this original-owner home went on the market in summer of 2017, it became a media star because of its original condition, design, and photogenic curb appeal. To give you an idea of just how special the house is: here's an excerpt from the 2017 listing:
"Sophisticated Mid-Century modern home reflective of the Bauhaus design movement. One owner 4 bed 3 bath meticulously maintained home. Original custom details include Phillipine mahogany kitchen cabinets and walnut and butternut paneling. Secret storage areas seamlessly incorporated…Floor to ceiling windows and skylights create sun filled open spaces. Huge lower level perfect for office or recreation. "
How its done: A CBB member mentioned that this house, the family home of her friend, would be coming on the market soon to CBB co-founder Joan Gand. After seeing some photos, Joan then mentioned it to her friends and CBB members. She knew that they had been dreaming of a new, larger home with more mid-century modern details, plus a larger space for music gear to jam with friends. After visiting the home – just to look – they instantly knew that this was their dream house.
After multiple offers, counter-offers, and sleepless nights, they got the house, and proceeded to love and preserve it. Sensitive updates were made to the kitchen, the wall between dining and living room came down, and the rest remains beautifully original.
CBB members enjoyed an afternoon in this Midcentury dream house, complete with 1963 Avanti!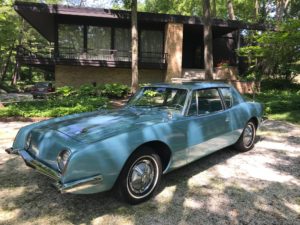 Here's a selection of photos from this super-fun event at a beautiful home:
And as a bonus, a neighbor who studied under Frank Lloyd Wright and then designed and built his own home next door let us tour his home as well!