Friday, February 24, Palm Springs, Ca. Chicago Bauhaus and Beyond hosted a special event to bring the House of Tomorrow restoration project to the forefront. We organized a home tour to raise funds for the National Trust and Indiana Landmarks project to restore the Keck and Keck home, built in 1933 for the Century of Progress World's Fair in Chicago.
Over 200 visitors toured two Mid-Century homes in Palm Springs with Chicago connections. The first was one-of-a-kind custom home built in 1960 as a vacation get-away for the Morses, a Chicago couple relocated to LA. Architect Harold "Hal" Levitt, famed for working with Hollywood's elite, took the William Krisel design already under construction and re-imagined it as the ultimate party house. Restored in 2005, the white rock exterior with terrazzo sidewalks just hints at surprises inside. Terrazzo flows into the sunken living room, outdoor patio, swim-up bar, and disappearing glass walls. It has been designated a Palm Springs Class 1 Historic site, and is now owned by Joan and Gary Gand, founders of the Chicago Bauhaus and Beyond preservation group. The Gands have owned a 1955 Keck passive solar house in Illinois since 1986, and are active in the House of Tomorrow restoration project.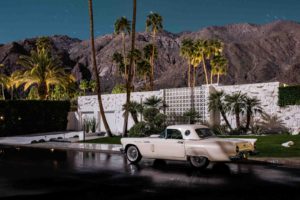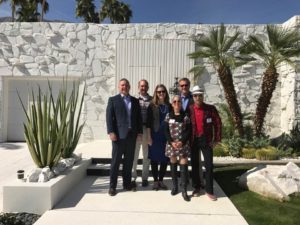 Marsh Davis and Todd Zeiger were on hand from Indiana Landmarks, Jennifer Sandy and David Ford from the National Trust, and the Gands
Visitors also toured the Leff/Florsheim house designed in 1957 by Donald Wexler AIA, of Wexler and Harrison, one of the most celebrated architectural gems of the desert. The home is named for the previous owner Harold Florsheim, of Florsheim Shoes in Chicago. The property went through a number of transformations and in 2003/04 the entire original footprint was reborn using the original plans of the property. It was meticulously restored adding in conveniences for modern living today. Floating walls, terrazzo flooring and numerous intimate vignettes encompass the property with mountain vistas serving as a backdrop through floor to ceiling glass and atriums. Walled for privacy and surrounded by greenery that pops through the windows, "this is quintessential Palm Springs. Not only is it elegant and sophisticated but also romantic". – Julius Shulman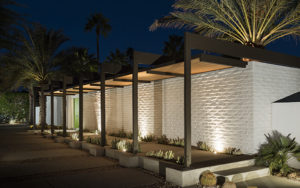 Photos of homes courtesy of Tom Blanchard and Lance Gerber
Home Tour: Palm Springs/Chicago Midcentury Modern Connection
A House of Tomorrow presentation is scheduled on Saturday, February 25. For more information please visit: http://www.modernismweek.com/event/249779/.