What if you took a futuristic home built in 1962 and filled it with rare vintage furniture of the era, to create a Mid-Century Modern Dream House?
Chicago Bauhaus and Beyond and Wright Auctions collaborated on
the first ever Mid-Century Modern Dream house in the Chicago area. The event was a fundraiser for the restoration of another famous Keck home, the 1933 House of Tomorrow. It was also be the location for this year's, members only, Potluck Holiday Retro Cocktail Party on Dec. 3, from 4-7 p.m.
The two-day event was held at a 1962 Keck and Keck home in Highland Park, IL, famed for its oval design, built around an indoor swimming pool with retractable roof. The home features a 70-foot- long open living room/dining room/family room that looks onto the pool. A sunken bar area, terrazzo floors, and built-in cabinets add touches of mid-century elegance. The home was the site of the announcement last year of the House of Tomorrow restoration project, and CBB also held a holiday party there in 2007. It was wonderful to return to this fantastic house, ten years later, decorated with rare design objects from Wright.
Experts from Wright auction house created a stunning mid-century interior design using a selection of rare furniture and art objects to be sold at auction on December 14. The combination of vintage collectible furniture in the unique home created an interior that mixed elegance with a bit of "Jetsons' futurism." During the two days of open house, over 300 visitors were inspired to learn more about "Mad Men"-era design during short talks from experts throughout the day. Chicago Bauhaus and Beyond communicated our mission and reached out to potential new members.
Megan O'Sullivan, of Chicago Home Curator, tells more about the house: "Built in 1962 by brothers George Fred Keck and William Keck, icons of Modernism, the 5 bedroom, 5 bath, 5,000+ square foot ranch sits on a private, wooded 1.72 acre lot. One of their last custom projects, Keck and Keck designed this home as a fully enclosed brick walled oval, with a swimming pool in the center that could be reached through every room in the house, for year-round use."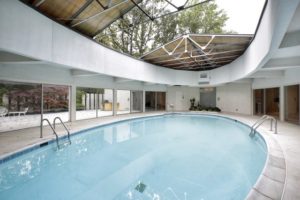 "The home utilizes passive solar heating with radiant heated floors and fixed Thermopane windows with metal louvered vents for fresh air—hallmarks of Keck designs. Surrounded by nature and thoughtfully designed, all the principles of Modernism are incorporated in the design" said Joan Gand, tour organizer from Chicago Bauhaus and Beyond, who also lives in a Keck home.
Wright is the premier auction house specializing in modern and contemporary design. Since its founding in 2000, Wright has handled more than 40,000 lots across the spectrum of 20th and 21st century design.Indiana Landmarks revitalizes communities, reconnects people to heritage, and saves meaningful places.
When: Saturday and Sunday, December 2 + 3, 10 am – 4 pm
Where: 2077 Partridge Lane, Highland Park
For more information about the house, click HERE
For more information about Wright Auction house, click HERE
For more info about Indiana Landmarks and the House of Tomorrow Restoration project, click HERE