17Sunday, Sept. 17, 2017 1:00 p.m. CBB members toured and met the owners of this Mondrian-esque prefab house in Michigan City, IN. The house is named after the original owners and occupants for over 50 years, Dr. Robert Frost and Mrs. Amelia Frost. Built in the early 60s, the house is constructed of prefabricated aluminum with baked enamel finishes, an industry first, designed and engineered by Emil Tessin, for the now defunct Alside Homes Corporation, based in Akron, Ohio. The design is influenced, and inline with the International Style of architecture, as well as the Modern Movement. It is an excellent example of living with nature by bringing the outdoors in, and a wonderful study in affordable mid-century housing.
"INSTANT HOUSE. It will come delivered in two trailer trucks and within 48 hours will be completely assembled down to the last fixture and appliance."
——LIFE Magazine August 18th, 1961
The significance of the home is the contribution it has provided to the prefabricated housing movement. The 'Frost House' is a combination of glass walls and aluminum panels, fitted into a steel framework. The system for construction and the materials themselves were patent protected, granted on September 11th, 1962. The interiors were a collaboration with Paul McCobb, designing the built-in furniture and kitchens, with Knoll providing the selections for case goods, soft and occasional furnishings. Although, like Jean Prouve's experimental homes they never met mass production as intended.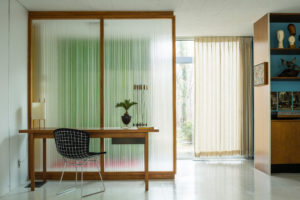 Research is being conducted to determine the true age of the home. It was thought that the house was built in 1958, however, documentation indicates that Alside Home Corporation was not in operations until the early 60s, and that they were only around for a few short years. With approximately 200 home sales, however many were never built.
It continues to be a private residence, and is currently being considered, with the assistance of Indiana Landmarks, for a National Historic Register designation. It was a magical afternoon discovering more about the history, and stories associated to 'The Frost House', and experiencing this amazing design.