TUESDAY / MARCH 14, 2017 / 5:30 PM – 7:00 PM
Restoring Keck's House of Tomorrow – America's first glass house.
Last night, March 14, 2017:
At a monthly talk sponsored by AIA Chicago's Historic Resources Committee, Indiana Landmarks and the National Trust for Historic Preservation announced the team that will lead the rehabilitation of The House of Tomorrow. Designed by Chicago architect George Fred Keck for the 1933-34 Chicago Century of Progress World's Fair, the building sits in a dilapidated state atop a sand dune in Northwest Indiana.
Todd Zeiger, director of Indiana Landmarks' northern office in South Bend and House of Tomorrow project manager, introduced the team after the talk at 5:30 p.m. on Tuesday, March 14. Jennifer Sandy, senior field officer of the National Trust, also spoke at the AIA session. Last fall, the National Trust named the site a National Treasure and with Indiana Landmarks launched a $2.5 million campaign to restore the house.
The design team working to rehabilitate America's first glass house includes:
bKL Architecture taking the lead in architecture and interior design with a team led by Charles R. Hasbrouck, FAIA
Bauer Latoza Studio, led by Edward Torrez RA, AIA, LEED AP BD+C, providing historic preservation consulting services
Wiss, Janney, Elstner Associates, Inc., providing structural engineering services with a team led by Senior Associate Michael Ford
Willoughby Engineering, led by Thomas Willoughby, supplying mechanical, electrical and plumbing engineering services
HJKessler Associates, led by Helen Kessler, FAIA, LEED, providing sustainability consulting services.
Staff from the National Park Service and State Historic Preservation Office will ensure the project meets preservation standards.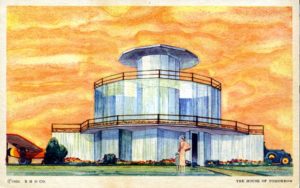 When Chicago architect George Fred Keck (1895-1980) designed the House of Tomorrow for the 1933 A Century of Progress World's Fair, he embraced the challenge of creating a model for a new way of living. He designed America's first glass house, predating both Ludwig Mies van der Rohe's renowned Farnsworth House (1945-51) and Philip Johnson's Glass House (1949) by many years. Though little else remains from the 1933 fair, the House of Tomorrow still exists, vacant and deteriorated atop a dune overlooking Lake Michigan in the Indiana Dunes National Lakeshore.
Indiana Landmarks aims to restore the influential structure with assistance from the National Trust for Historic Preservation which recently named the house a National Treasure. Todd Zeiger of Indiana Landmarks and Jennifer Sandy from the National Trust's Chicago office, will talk about the origin of Keck's groundbreaking glass curtain-wall design and how the building ended up in Indiana after the fair. They will also discuss the planned $2 million restoration of the House of Tomorrow which Indiana Landmarks has leased from the National Park Service.
The free presentation will begin at 5:45pm.
SPONSORED BY
Historic Resources KC, Indiana Landmarks, National Trust for Historic Preservation
Photo credits:
Postcard: Collection of Steven R. Shook
Contemporary image by Lee Lewellen