RSVP Here:
Chicago Bauhaus and Beyond paid members are invited to the annual Retro Holiday Potluck Party. Bring a dish to share – vintage recipes on vintage dishware, or vintage-inspired. Appetizers, main course, and desserts are all welcome! We provide the cocktails and bartender. Dress up in your favorite vintage or vintage-inspired cocktail party attire. This year's event will be held at the Mies van der Rohe McCormick house that is located at the Elmhurst Art Museum. The house has been enlivened with an incredible mirrored art installation by David Wallace Haskins in one half, and a midcentury furniture and art installation curated by Bauhaus expert interior designer Robert Kleinschmidt and Ryan Monteleagre in the other. Our party will be held after the museum closes, and we will have the entire space to enjoy. Rob Kleinschmidt will be on hand to lead tours of the McCormick house, and talk about the furniture and art installation.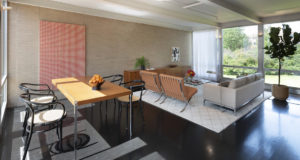 Since we will not be in a functioning house – please make the food that you bring something self-contained, prepared and on a serving dish, with a serving utensil. We will have electricity for crock pots. Booties will be supplied by the museum to wear in the mirrored room over your shoes. Women should not wear stiletto heels as it could damage the mirrors. Also, since the floor is mirrored – ladies – be aware when planning your outfit. If you know what we mean….
Please make sure your membership has been paid, and if not, take this moment to renew on the Join page.
Space is limited – so be sure to RSVP here: https://www.punchbowl.com/parties/b0dc221165bdaddc213d