Sunday, June 24, 2:30 p.m. A special visit/tour at the Elmhurst Art Museum
Address: 150 Cottage Hill Ave. Elmhurst, Illinois 60126
FREE to paid members, RSVP below.
Mies's McCormick House Revealed: New Views, a three-part exhibition curated by Columbia University Professor of Art History and Archeology Barry Bergdoll. New Views will provide background, context, and visibility to the McCormick House and serve as an introduction when the McCormick House facade is revealed for the first time in over twenty years.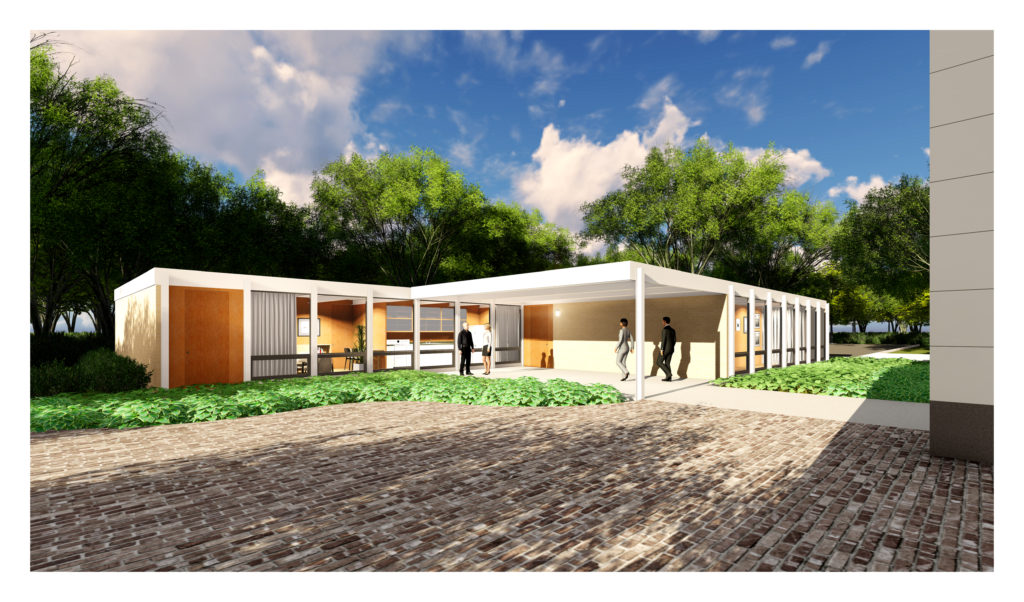 In tandem with the revelation of the building's full exterior, internationally acclaimed artist Iñigo Manglano-Ovalle will create Seeing Red, a stunning architectural intervention within the McCormick House that builds on an idea of the original developers Robert Hall McCormick and Herbert S. Greenwald, who offered to make glass windows of the proposed prefab housing "almost any shade of the rainbow." Manglano-Ovalle's architectural interventions have included projects at Mies's Farnsworth House, Barcelona Pavilion, S.R. Crown Hall at IIT, and Neue Nationalgalerie, Berlin, as well as the fabrication of the architect's 1951 proposal for the as-yet-unbuilt House with Four Columns.
Photo credits:
Original McCormick House photo above from the
Hedrich- Blessing archive, Chicago Historical Society
McCormick House Rendering courtesy of
Heritage Architecture Studio, LLC and LP Studio Inc.
FREE to paid members with RSVP – to admin@chicagobauhausbeyond.org
Make sure you have paid your dues for 2018 to be eligible